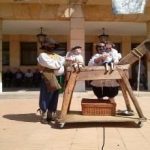 After the disastrous outcome of his first adventures, Don Quijote and his faithful squire decide to go back to the roads in this second part of cervatino text. Here we go slowly watching as Sancho Panza is entering the fantasy world of his master and friend, while Don Quijote travels the reverse path.
Company: Tripla Teatro (Spain – Madrid).
Official Program
Performances: Oct.2, 2016 at 0:30 pm.
Space: Cruce Paseos (Cerro Buenavista).
Performances: Oct.2, 2016 at 5:30 pm and at 8:00 pm.
Space: La Pajarera.
Duration: 50′ / All Audiences.