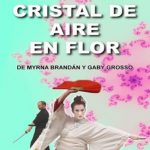 It is a theatrical show, almost unipersonal, where different body languages ​​are fused (dance, aikido, iaido), songs in different languages ​​and the structuring text of the whole show is the myth of Psyche and Eros, version of the "Golden Ass" from Apuleyo. The poetic texts and the songs reflect the journey starting from a gender perspective and go from the emblematic figure of a geisha and the different ruptures that the woman has made in her awareness among the illusions-mandates-survival-contemporary difficulties between the working life and the idea of ​​romanticism.
Company: Grabiela Grosso (Argentina)
Official Program
Space: Azotea Ayuntamiento / Getafe 

Performances: Sept.30, 2018 at 7:00 and 7:45 pm.
Duration: 15′ / All Audiences.
The myth of Psyche and Eros refers to the constitution of the feminine soul, in its aspiration to also contain the masculine part, which allows it to arrive at the achievements that daily life demands. Humor is not absent, because in the area of ​​love crises and their experiential journeys between madness and alienation to the healthy awareness that allows us to confront ideals and realities, there is an expressive range that allows us to laugh so as not to cry. The battle between the social characters incorporated into the discourse that they think, criticize, judge and advise makes it difficult and contradictory to clear the real desires and the politically correct behaviors.