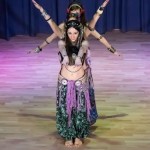 Sample oriental dance and tribal fusion hand Marmara group and students of the School Raks Samadhi. "If you do not like to wait out the storm, learn to dance in the rain…".
Company: Raks Samadhi (Spain – Madrid).
Official Program
Promoting Local Companies
Performances: Sept.25, 2015 at 8:30 pm and at 9:30 pm.
Space: La Terraza del Obispo.
Duration: 15′ / All Audiences.