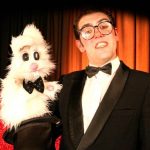 Braulio is the best magician in the world or at least that is what he believes, but… who are we to make him know the truth? This is much more fun, and if he knew about the ridicule he is doing, he would not behave as he is. A clumsy magician and so clueless that he is not aware that his tricks happen to him by chance. Now this eccentric character comes to our city to show his "great" show, but… will he be so lucky this time? Come and discover it!
Company: Adrián Conde (Spain – Asturias).
Street Artists Meeting Aranda de D...
>>