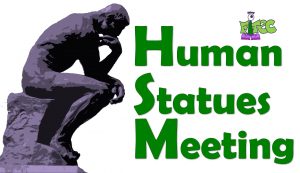 Dear Friends, cordial greetings to everyone, from FITEC 2021 XXIII edition for October 3, 2021 we have created the 1st Prize of the Public for Human Statues Parla 21.
We will select 8 statues with the following conditions:
A total of € 75.00 will be paid per statue or set. And they will be able to "pass the cap" during the time that they remain carrying out the activity in their respective spaces.
The Statues or Sets will be located in the grounds of Parque del Este, within the framework of the FITEC festival in Parla, between 5:00 p.m. and 8:00 p.m. in the space assigned to them by the organization.
In case of wanting to remain in the spaces for longer than the authorized time, they must notify the Organization in advance and sufficiently in advance, for the management of the corresponding permits.
The Organization will manage and process the public road occupancy permits for each of the participating Statues or Groups.
The Statues or Ensembles must be autonomous in terms of characterization and / or dressing room needs.
The Organization will be in charge of the dissemination of the event through the festivalfitec.com website and all the Festival's social networks.
A single audience prize will be awarded immediately on stage of € 500.00
Those interested in Participating have to make a Registration via E-Mail to the email: festivalfitec@gmail.com or through our CONTACT form, on the festivalfitec.com website, providing the following documentation:
Name, DNI or NIF of the person or persons who are going to exhibit and telephone.
Title of the Statue.
Short synopsis about the statue and the artist (no more than 5 lines)
Updated photograph of the Statue.
Thanking you in advance for your participation, receive a cordial greeting.
>>