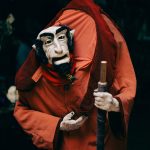 Inspired by the magical beings of heroic fantasy: Elves, Elves, Geniuses and Ogres. Barnabas is a strange and crazy character who goes on the roads telling magical stories, creating improvised situations, always having the audience as an accomplice. The Path Account is a show that connects oral narration with puppet theater.
Company: Mau Tetro (Chile)
Official Program
Space: Art-FITEC / Getafe

Performances: Sept.28-29, 2019 at 6:00 pm, 7:00 pm and 8:00 pm.
Duration: 15′ / All Audiences