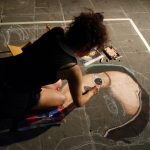 Urban plastic intervention of this Italian artist. Fabiola Branca will develop during the days in which the FITEC Festival is held in Getafe, a pictorial exhibition related to the theme to which this year we dedicate the Festival: The dare to set sail for new goals, new dreams. Transversally we will discuss the theme of the female world, so present in the work of Federico García Lorca, which this year marks the anniversary of his arrival in Madrid.
Company: Fabiola Branca (Italy)
Parallel Arts
Space: Plaza Lorca / Getafe 

Activity: From Sept.27 to 29, 2019.
 Duration: 3 Days / All Audiences