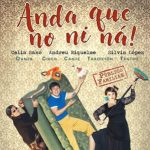 A somewhat atypical mother-in-law capable of hanging from the curtains, a widowed mother who sings and stomps with flamenco character and a teenage son who dances distractedly and reluctantly with his grandmother are the protagonists of this singular house. The story unfolds in the living room of a typical Andalusian home of the 70s and in it everyday situations such as cleaning the house, napping or reading a comic are transformed into moments of virtuosity and humor where everything is possible, even blowing up a sofa.
Company: La Petite Producciones (Spain – Granada).
Official Program
Performances: Sept.29, 2018 at 7:00 pm.
Space: Plaza Palacio (Getafe).
Duration: 45′ / All Audiences.