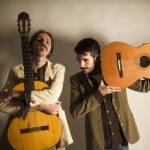 Music that includes styles like rumba, rock, progressive, cumbia and swing… With an incendiary attitude on stage, where they manage to create an explosive mix of music, theater and improvisation.
Company: Alpargata (Spain – Madrid).
Official Program
Performances: Sept.30, 2017 at 9:30 pm.
Space: Plaza Palacio.
Duration: 90′ / All Audiences.