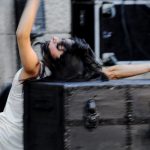 "No woman is born: one comes to be" Simone de Beauvoir. The main component of the piece is the struggle for freedom… Out of the most complete darkness, the woman is immersed in a new learning full of contradictory feelings, blockages, misunderstandings, longing for not knowing… And time passes, AND SUFFER , AND DOES, AND LEAVES… and discovers a new life… a new freedom…
Company: Asociación Primario – Pepa Cabezas (Spain – Madrid).
Pepa Cabezas at the age of 14 finishes his career of Spanish dance in the real conservatory of dramatic art and dance of Madrid, with the hand of Carmen Romero Arroyo. From there, she takes various courses to train with Eloy Azorín, Antonio Canales, Isabel Bayón, etc. Soon she starts touring the world with companies like Carmen Cortés, Luis Ortega, José Huertas, José Porcel, etc… And like Guest artist at the Argentine company Concept Tango. She also works as a choreographer at various companies. In 2008 he premiered "vida", which means a before and after in his artistic career, changing his way of understanding dance, and giving him the opportunity to express everything he has inside. In 2017 opens its own school "danceando", thus starting a new path without leaving behind his personal performance as an artist.
Official Program
Performances: Sept.30, 2017 at 7:00 pm.
Space: Patio I.
Performances: Oct.1, 2017 at 7:00 pm.
Space: Patio I.
Duration: 12′ / All Audiences.