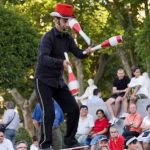 Show a comic juggler on his first day combining classic circus techniques with the freshest mood using the public for improvisation and juggling with diabolos balls to finish with a risky number of balances on rulos a show that will make you laugh both children older and not leave anyone indifferent.
Company: Javi Javichy (Spain – Madrid).
Official Program
Performances: Sept.30, 2016 at 10:00 pm.
Space: Calle Madrid.
Duration: 45′ / All Audiences.