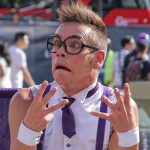 With an innocent, sometimes eccentric sense of humor… and an almost total absence of the sense of ridicule… Thelmo connects with the viewer in a natural, sincere, nude way, unpretentious… Transforming his sophisticated but almost awkward appearance into a more athletic but misaligned, almost ridiculous… Taking off his pasta glasses and changing his suit and tie for his lycra mesh and superhero cape.
Company: Thelmo Parole (Spain/England)
Official Program
Space: Bulevard La Dehesa (La Dehesa) / Navalcarnero 

Performances: Sept.29, 2019 at 12:30 pm.
Space: Plaza Guardia Civil / Parla
Performances: Nov.8, 2019 at 6:30 pm.
Duration: 45′ / All Audiences
A very intense and delicate work, focused on the interaction with the public, with disciplines such as the manipulation of objects, the pantomime or the balances that Thelmo uses as a tool to improvise situations, create games, share moments, project emotions… Getting as it turns out to be an exciting, dynamic and fun show…