In 2010, after the experience gained during the celebration of FALP Getafe (II Forum of Suburban Local Authorities), which FITEC team was responsible for developing the artistic program, we embark on a new adventure in the Festival program: the scheduling a Meeting of Living Statues.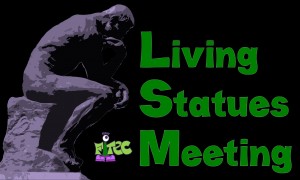 During the 15th edition of 2010, Getafe Madrid street, main pedestrian artery of the city, was lit for the first time with these master artists of stillness.
Immersed in an enigmatic stillness, they are a fashion phenomenon in many cities worldwide, causing sense of mystery, outside the movement of the streets, apparently absent from reality… We can find these professionals still and expectant purely Urban Art the jingle of coins to make them out of their lethargy unreal.
Do not forget that if you are to your liking, thank you for your contribution coins with a slight furtive greeting.
If you are Street artist and wish to participate in the Living Statues Meeting, you can do so via email to festivalfitec@gmail.com via email or through our CONTACT form