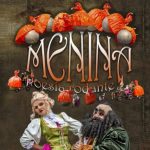 From the centuries of the centuries the human being has not stopped to look and to be surprised in the confines of the space time before everything that worthy and deserving of reflection and the awakening of the human soul… This is how we found the wheel or, going a little Farther away, the fire… Many were the adventurers who in their iliada crossed the bottom of the seas looking for nymphs or crossed galactic borders after cyclops and stars…
Company: 7Burbujas (Spain – Toledo).
Official Program
Performances: Sept.29, 2017 at 6:30 pm.
Space: Plaza Ayuntamiento – Calle Madrid – Plaza Palacio.
Duration: 60′ / All Audiences.