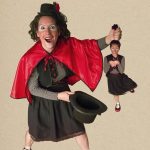 Alicia wants to do wonders and become a star. When she wants to do magic, she turns out to be more pious than magician. He is telepathic with telepathy and practices a very elementary mentalism. Her great illusion for being an illusionist turns her into an illusion and if she plays at being fakir, she will end up in pain. A show in clown key where the language of gesture over words prevails.
Company: Alicia Maravillas (Spain – Valladolid).
Street Artists Meeting Aranda de Duero 2018
Performances: Sept.12, 2018 at 1:30 and at 8:30 pm.
Space: Plaza del Trigo (Aranda de Duero).
Duration: 50′ / All Audiences.