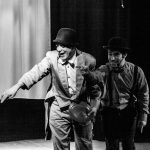 It is a show created in 2014, which collects characteristics of the traditional clown with the most modern and current hooligan Clown. It is a dynamic show full of musical, magical and circus routines. The ClaClowns embaucaran the whole family with the charm of the classic circus clowns of a lifetime and impress them with their diabolo routines, acrobatics, magic and physical comedy. The show has been programmed by the Diputación de Ávila within its Summer Program, and also within the Big Fair of Don Benito and Fiestas del Lucero, among other events.
Company: ClaClowns (Spain – Madrid).
Official Program
Performances: 24 Nov.24, 2018 at 12:30 pm.
Space: Nave Campo de Fútbol (Cubas de la Sagra).
Duration: 45′ / All Audiences.