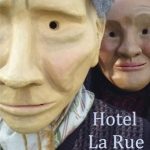 Manuela is nomadic. Living selling violets and pushing the cart in which he lives. Miguel is a wealthy engineer who remembers his late wife. It entertains repairing steam engines. One day Manuela suffers an accident and Miguel house is the only one who can call.
Company: Totonco Teatro (Spain – Madrid).
Official Program
Performances: Oct.2, 2016 at 8:00 pm.
Space: Plaza Palacio.
Duration: 45′ / All Audience.