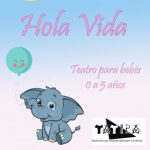 Hola Vida is a work where babies from 0 to 5 years travel through a world full of sensations and stimuli. The sweetness, love and love are the thread of this show. Through visual and sound elements, children and adults are trapped.
Company: Tatira (Spain – Madrid).

Official Program.
Funtions: Sept.30, 2018 at 0:30 pm.
Space: Plaza Ayuntamiento.
Duration: 30′ / Child Audience (0-5 years odl).