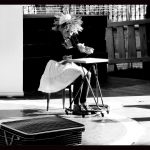 Welcome to Great World Circus! "Este Circo no es Normal" has come to the city with its jugglers, magicians, acrobats, musicians, elephants and lions; Come to enjoy… Oh! But what happened? The artists have left, can not be, the function can not be suspended. What will Margarito? For search assistants among the public. The show must go on, the circus can not stop… you dare to join! Great and small, anyway! All together give life to this circus, it will not be quite normal. 
 You will see!
Company: Margarito y Cia. (Spain – Burgos).
Official Program
Performances: Oct.2, 2016 at 12:30 pm.
Space: Parque Aviocar (El Bercial).
Performances: Oct.2, 2016 at 7:00 pm.
Space: Calle Madrid.
Duration: 60′ / All Audiences.