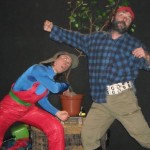 A naive hiker looking "End of the World Forest". A ranger has a unique mission: to protect the last tree. The meeting fosters both a fun and crazy dialogue, which reveal a not so distant future a possible reality. Key comedy theater of the absurd, which leaves to light, many of the problems with which humans have to deal to resolve the current state of our planet.
Company: Epa! Juglares (Spain – Madrid).
Street Artists Meeting Aranda de Duero 2018
Performances: Sept.12, 2018 at 2:00 pm and at 9:00 pm.
Space: Plaza Santa María (Aranda de Duero).
Duration: 50′ / Children Audiences.