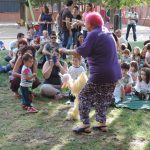 When Nana plays with children, she creates a world of characters that interact with the little ones, in this way she converts inanimate beings into living characters full of emotions.
Company: Nana Títeres (Spain – Madrid).
Official Program
Local Companies Promotion
Performances: Sept.30, 2018 a las 00:00 pm.
Space: La Pajarera.
Duration: 45′ / Child Audience.