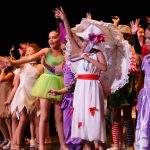 "Fame costs and this is where you are going to pay with sweat" says Professor Lidia Grant. But it still costs more on television.
Company: Menudos Artistas (Spain – Madrid).
Official Program
Promoting Local Companies
Performances: 24 Nov.24, 2018 at 1:40 pm.
Space: Nave Campo de Fútbol (Cubas de la Sagra).
Duration: 10′ / All Audiences.