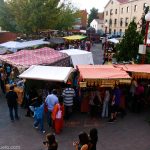 ART-FITEC. Traditionally, a space dedicated FITEC artisans creators of itinerant life, are small companies, freelancers, artists… and it is in places like the Festival, where they generate their economy. The Art-FITEC is colorful frame the streets of our city an interesting meeting of artisans and creators of illusions, a different show of shapes, textures and curiosities. We marvel increasingly showing us their work and their mastery of raw materials, which it is impossible for us to think. In addition to mingle Hostelry and Food stops that will frame this market making "A Feast of the Senses".
Organize: Teatro Destellos – Eventos Bayarri – Ayuntamiento de Getafe.
Art-FITEC Program
Timetable: Sept.28 2018 from 6:00 pm to 1:00 am.
Sept.29 2018 from 11:00 am to 1:00 am.
Sept.30 2018 from 11:00 am to 10:00 pm.
Space: Calle Don Fadrique – Calle Felipe Estévez – Paseo Pablo Iglesias – Plaza RENFE.
All Audiences.