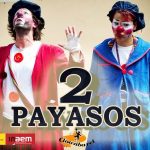 Macarroni and Woody are 2 Clowns. Two clowns who come to make people laugh, to play with the audience and to make each other's lives impossible, evoking the most classic clowns. After his tremendous start, Macarroni and Woody can not agree on who of the two leads the show in this show. A funny spectacle for all audiences, full of mischiefs like those that these two clowns have been doing for so many years in which there is no lack of imagination, hypnotism and circus.
Company: Clownbaret (Spain – Tenerife).

Official Program.
Performances: Sept.30, 2018 at 0:30 pm.
Space: Parque Sánchez Coy (Cerro Buenavista).
Performances: Sept.30, 2018 at 6:00 pm.
Space: Plaza Lorca.
Duratión: 45′ / All Audiences.